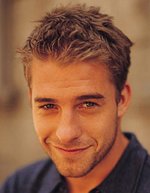 Vero Nome: Robert Scott Speedman
Data di nascita: 01/09/1975
Luogo di nascita: Londra - Inghilterra - GB
Altezza m 1,83
Aitante, sportivo, biondo, occhi verdi, incredibilmente affascinante, Scott Speedman Ŕ nato a Londra nel 1975, ma Ŕ canadese di adozione, in quanto i suoi genitori si sono trasferiti a Toronto quando il ragazzo aveva solo 4 anni.
Figlio di Mary, un'atleta olimpionica, e di Roy Speedman, ha una sorella di nome Tracey e due nipotini, Jamie Roy e Jessica Scoot.
Nuotatore provetto nella squadra giovanile canadese, riesce perfino a stabilire un record nello stile libero, prima che un brutto incidente ponga fine alla sua carriera, e al suo sogno di partecipare alle Olimpiadi.
Scott nel frattempo si diploma alla Earl Haig High School a Toronto e, dal 94 al 96, frequenta l'UniversitÓ di Toronto.
Su incoraggiamento di una sua vecchia fiamma, un giorno, per caso, si trova a partecipare al talk-show 'Speakers Corner' della TV canadese. L'esperienza di stare davanti ad una macchina da presa l'affascina a tal punto, che decide di partecipare ad una provino per il ruolo di Robin nel film di 'Batman Forever'.
Il ruolo non gli viene asseganto, (la parte va al pi¨ noto Chris O'Donnell), ma lui, ormai convinto che quella Ŕ la sua strada, assume un agente con l'incarico di procurargli delle scritture.
Cominciano cosý ad arrivare i primi ingaggi: diversi TV movie e poi, finalmente il debutto sul grande schermo con il film "KITCHEN PARTY".
Il successo Ŕ immediato e la popolaritÓ presso il pubblico femminile Ŕ grande, favorita anche dall' aspetto fisico, sexy ma virile allo stesso tempo.
Dal 1998 al 2002, entra a far parte del cast del serial TV americano, 'Felicity', che ha segnato una tappa fondamentale nella sua ancor breve carriera.
Parallelamente prosegue la sua esperienza nel cinema: ottiene il ruolo di a fianco di GWYNETH PALTROW, nel corale "DUETS" di Bruce Paltrow, in cui, sullo sfondo di un'America del degrado, che non ci Ŕ dato vedere, si incrociano i destini di tre persone con il Karaoke a fare da colonna sonora.
Nel 2002 finalmente, gli viene offerto il primo ruolo di rilievo nel noir, tratto da un racconto di James Ellroy, "INDAGINI SPORCHE - DARK BLUE", a fianco di Kurt Russell, in cui Ŕ Bobby Keough, giovane sbirro, a cui il disincantato e corrotto veterano, insegna l'arte della corruzione, e della giustizia sommaria.
Nel film successivo, del 2003, lo troviamo accanto a Sarah Polley e Mark Ruffalo, nel commovente, ma mai patetico, "LA MIA VITA SENZA ME", appassionante dramma sulla malattia e l'amore per la vita.
Pi¨ recentemente Ŕ stato ammirato e applaudito protagonista, accanto alla bellissima KATE BECKINSALE dell'horror di successo, "UNDERWORLD", dove, Ŕ un umano in procinto di diventare lupo mannaro, il cui amore per una vampira guerriera, fa divampare, ancora di pi¨ la secolare guerra per la supremazia tra vampiri e licantropi.
I suoi prossimi lavori prevedono il seguito di "UNDERWORLD", atteso per l'anno prossimo, l'action-thriller "XXX State of the Union", a fianco di Ice Cube, e il drammatico "3 Needles".
FILMOGRAFIA
1995 - Net Worth (film TV) regia di Jerry Ciccoritti
1995 - Nancy Drew (serie TV) regia di Clay Borris - Jon Cassar
1996 - A Brother's Promise: The Dan Jansen story (film TV) regia di Bill Corcoran
1996 - Can I Get Witness? regia di Kris Lefcoe
1996 - Giant Mine (film TV) regia di Penelope Buitenhuis
1997 - Dead Silence (film TV) regia di Daniel Petrie Jr.
1997 - What Happened to Bobby Early? regia di Bradley Wigor
1997 - Kitchen Party regia di Gary Burns
1997 - Ogni nove secondi regia di Kenneth Fink
1997 - Ursa Major regia di William Chambers
1998 - Rescuers: Stories of Courage regia diTim Hunter - Lynne Littman
1998 - Felicity (serie TV) regia di J.J.Abrams - Matt Reeves
2000 -
DUETS
regia di Bruce Paltrow
2004 - The 24th Day regia di Tony Piccirillo
1999 -
DUETS
regia di Bruce Paltrow
2002 -
INDAGINI SPORCHE
regia di Ron Shelton
2003 -
UNDERWORLD
regia di Len Wiseman
2003 -
LA MIA VITA SENZA ME
regia di Isabel Coixet
2006 -
UNDERWORLD: EVOLUTION
regia di Len Wiseman
2007 -
WEIRDSVILLE
regia di Allan Moyle
2008 -
ADORATION
regia di Atom Egoyan
2007 -
THE STRANGERS
regia di Bryan Bertino
2007 -
ANAMORPH
regia di Henry Miller
2010 -
GOOD NEIGHBOURS
regia di Jacob Tierney
2010 -
LA VERSIONE DI BARNEY
regia di Richard J. Lewis
2012 -
UNDERWORLD: IL RISVEGLIO
regia di Mňns Mňrlind, Bj÷rn Stein
2012 -
LA MEMORIA DEL CUORE
regia di Michael Sucsy
2011 -
THE MOTH DIARIES
regia di Mary Harron
2014 -
A PIEDI NUDI
regia di Andrew Fleming
2014 -
THE CAPTIVE - SCOMPARSA
regia di Atom Egoyan
2014 -
OUT OF THE DARK (2014)
regia di Lluis Quilez
2016 -
THE MONSTER (2016)
regia di Bryan Bertino
Clicca il nome del film per visualizzarne la scheda
Galleria Fotografica

Biografia a cura di Mimmot - ultimo aggiornamento 07/12/2004