Seleziona un'opzione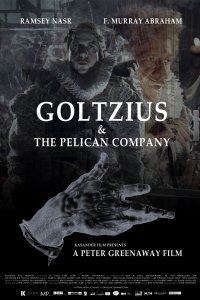 Titolo Originale: GOLTZIUS AND THE PELICAN COMPANY
Durata
: h 2.00
Nazionalità
:
Gran Bretagna
,
Paesi Bassi
,
Francia
,
Croazia
2012
Genere
:
storico
Al cinema prossimamente
•
Altri film di Peter Greenaway
Trama del film Goltzius and the pelican company
Tra i primi grandi incisori olandesi del barocco, Hendrik Goltzius (1558 - 1617) convince il margravio di Alsazia a diventare il suo editore per una serie di opere illustrate. Per la corte, in cambio, metterÓ in scena alcuni racconti biblici che rappresentano i sei tab¨ legati alla sfera del sesso (fornicazione, incesto, adulterio, pedofilia, prostituzione e necrofilia). L'umanitÓ varia che orbita intorno al nobile interpreterÓ, sotto la stretta direzione dell'artista, le storie bibliche di Adamo ed Eva, di Lot e delle sue due figlie, di Davide e Betsabea, di Putifarre e sua moglie, di Sansone e Dalila, di SalomŔ e Giovanni Battista.

Sei un blogger? Copia la scheda del film