knights of badassdom regia di Joe Lynch USA 2011


NEWS
Seleziona un'opzione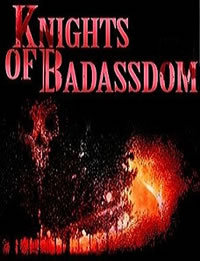 Titolo Originale: KNIGHTS OF BADASSDOM
Durata
: h 1.40
Nazionalità
:
USA
2011
Genere
:
horror
Al cinema prossimamente
•
Altri film di Joe Lynch
Trama del film Knights of badassdom
Un grande gruppo di giocatori LARP (Live Action Role-Players) in costume, vestiti come cavalieri, elfi ed altri personaggi, abbandonano i loro cellulari e vanno nei boschi per il Central New Jersey Knights of Badassdom Adventure Society, dove devono rappresentare un scenario di Dungeons and Dragons uscito dal mitico Medioevo. Ma quando un finto mago lancia un incantesimo su un antico libro comprato su eBay, la fantasia diventa realtÓ e un vero demone si manifesta con sete di sangue e anime. Questi finti guerrieri avranno il vero coraggio per alzarsi e combattere per salvare se stessi e il resto dell'umanitÓ?

Sei un blogger? Copia la scheda del film
| | | | |
| --- | --- | --- | --- |
| Voto Visitatori: | 5,00 / 10 (2 voti) | | Grafico |
Nessuno ha ancora votato e commentato
KNIGHTS OF BADASSDOM
---
Commenti:
Tutti
|


|
Con risposte
|
Con nuove risposte dall'ultima visita
|
Con risposte di oggi
---