Seleziona un'opzione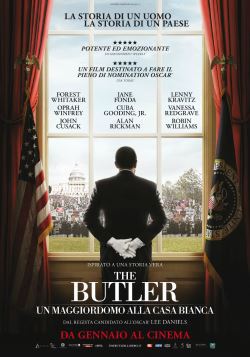 Titolo Originale: THE BUTLER
Durata
: h 1.55
Nazionalità
:
USA
2013
Genere
:
biografico
Al cinema nel Gennaio
2014
•
Altri film di Lee Daniels
Trama del film The butler - un maggiordomo alla casa bianca
Tratto da una storia vera, THE BUTLER - UN MAGGIORDOMO ALLA CASA BIANCA Ŕ il nuovo film del regista candidato all'Oscar per Precious, Lee Daniels. Interpretato da un cast stellare - il premio Oscar Forest Whitaker, Oprah Winfrey, John Cusack, il premio Oscar Jane Fonda, il premio Oscar Cuba Gooding Jr., Lenny Kravitz, Mariah Carey, il premio Oscar Vanessa Redgrave, Terrence Howard, Alan Rickman, Alex Pettyfer, James Mardsen, David Oyelowo, Liev Schreiber e il premio Oscar Robin Williams - Ŕ dedicato ad un uomo molto speciale: Eugene Allen. Nero di umili origini, maggiordomo alla Casa Bianca per 34 anni (dal 1958 al 1986) Ŕ stato testimone della vita privata e delle vicende politiche di 7 presidenti degli Stati Uniti, da Harry Truman fino a Barack Obama. Il film racconta la tenacia e la determinazione di un uomo, la nascita di una nazione e la forza della famiglia. Attraverso lo sguardo e le emozioni di Cecil Gaines (Forest Whitaker) si ripercorrono gli eventi e i cambiamenti della scena socio-politica americana: dall'assassinio di John F. Kennedy e di Martin Luther King, ai movimenti dei Freedom Riders e delle Black Panther, dalla Guerra del Vietnam allo scandalo del Watergate.

Sei un blogger? Copia la scheda del film