the place regia di Paolo Genovese Italia 2017


NEWS
Seleziona un'opzione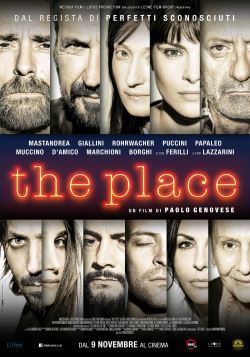 Titolo Originale: THE PLACE
Durata
: h 1.45
Nazionalità
:
Italia
2017
Genere
:
commedia
Al cinema nel Novembre
2017
•
Altri film di Paolo Genovese
Trama del film The place
Ispirato alla serie "The Booth at the End", il nuovo film di Paolo Genovese, The place, volge lo sguardo su un misterioso protagonista, ospite abituale a abitudinario di un ristorante, pronto a esaudire i pi¨ grandi desideri di otto visitatori in cambio di... alcuni "compiti" da svolgere. Quanto saranno disposti a spingersi oltre i protagonisti per realizzare i loro desideri? Chi di loro accetterÓ la sfida lanciata dall'enigmatico individuo seduto sempre allo stesso tavolo?

Sei un blogger? Copia la scheda del film
| | | | |
| --- | --- | --- | --- |
| Voto Visitatori: | 6,33 / 10 (50 voti) | | Grafico |


Voti e commenti su The place, 50 opinioni inserite

---



Commenti:
Tutti
|


|
Con risposte
|
Con nuove risposte dall'ultima visita
|
Con risposte di oggi
---
---