Seleziona un'opzione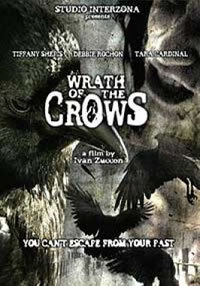 Titolo Originale: WRATH OF THE CROWS
Durata
: h 1.30
Nazionalità
:
Italia
2012
Genere
:
horror
Al cinema prossimamente
•
Altri film di Ivan Zuccon
Trama del film Wrath of the crows
In una sudicia e angusta prigione i detenuti (Larry, Deborah, Hugo, Hernest, Liza) devono sottostare alle ingiustizie perpetrate dal capo delle guardie (l'Ufficiale) e dai suoi aguzzini. Al di sopra di tutti e tutto, però, c'è IL GIUDICE, che nessuno ha mai visto, ma che impone le leggi da rispettare e che è temuto sia dai detenuti che dalle guardie. I prigionieri sanno come devono comportarsi, quali sono le regole da seguire ma non ricordano nulla delle loro vite fuori dalle mura di quella che in realtà è una fortezza. L'unica cosa che ricordano, e che emerge pian piano nel corso della storia è il male commesso per arrivare in quel luogo. Come apparsa dal nulla un nuovo prigioniero si aggiunge alla compagnia: Principessa. È una bellissima donna vestita soltanto da una pelliccia di piume di corvo, luccicante, profumata, calda. Il nuovo arrivo suscita la curiosità degli altri prigionieri, ma anche invidia, sospetti e profondi turbamenti sessuali. Principessa impiega poco a rivelare la propria natura oscura e soprannaturale, muove gli oggetti col pensiero, ed è dotata di una forza sovrumana. La fuga è un sogno per i prigionieri che non sanno cosa ci sia al di là delle mura, e nemmeno gli interessa: l'importante è fuggire da quel luogo maledetto.

Sei un blogger? Copia la scheda del film