be kind rewind - gli acchiappafilm regia di Michel Gondry USA 2007


NEWS
Trailer BE KIND REWIND - GLI ACCHIAPPAFILM
Seleziona un'opzione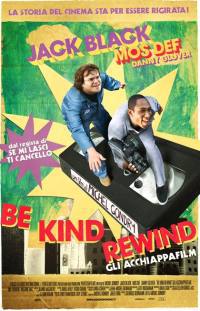 Titolo Originale: BE KIND REWIND
Durata
: h 1.38
Nazionalità
:
USA
2007
Genere
:
commedia
Al cinema nel Maggio
2008
•
Altri film di Michel Gondry
•
Link al sito di BE KIND REWIND - GLI ACCHIAPPAFILM
Trama del film Be kind rewind - gli acchiappafilm
Jerry e Mike sono amici dall'infanzia. Jerry Ŕ il meccanico della zona. Vive in un camper e teme le radiazioni che provengono, secondo lui, dalla centrale elettrica vicina. Mike lavora in un negozio che noleggia videocassette di proprietÓ del signor Fletcher, un appassionato fan di Fats Waller. Il giorno in cui Fletcher decide di partire per un viaggio affida il negozio a Mike invitandolo a tenere Jerry, decisamente esuberante, alla larga. Mike comprende in ritardo l'avvertimento e intanto Mike ha fatto il danno: avendo tentato di entrare nella centrale ha finito con l'essere cosý caricato di energia da smagnetizzare tutte le videocassette. Che fare? Una soluzione c'Ŕ. I due girano amatorialmente versioni short dei blockbuster del cinema. I film, una volta noleggiati, piacciono e la richiesta si fa sempre pi¨ pressante. Ma c'Ŕ un altro problema che incombe: una societÓ immobiliare vuole abbattere l'edificio...

Sei un blogger? Copia la scheda del film
| | | | |
| --- | --- | --- | --- |
| Voto Visitatori: | 6,97 / 10 (119 voti) | | Grafico |


Voti e commenti su Be kind rewind - gli acchiappafilm, 119 opinioni inserite

---



Commenti:
Tutti
|


|
Con risposte
|
Con nuove risposte dall'ultima visita
|
Con risposte di oggi
---
---