Seleziona un'opzione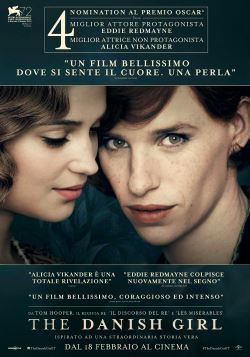 Titolo Originale: THE DANISH GIRL
Durata
: h 2.00
Nazionalità
:
Gran Bretagna
2015
Genere
:
biografico
Al cinema nel Febbraio
2016
•
Altri film di Tom Hooper
Trama del film The danish girl
Negli anni Venti, il pittore Einer Wegener viene convinto dalla moglie Gerda Wauda, artista anch'ella, a posare per lei in abiti femminili. Nel tempo, egli diventerÓ Lili Elbe e si avvierÓ alla trasformazione in donna, divenendo uno dei primi transgender della storia.

Sei un blogger? Copia la scheda del film
| | | | |
| --- | --- | --- | --- |
| Voto Visitatori: | 7,03 / 10 (53 voti) | | Grafico |

VINCITORE DI 1 PREMIO OSCAR:
Miglior attrice non protagonista (Alicia Vikander)
Segnalazione Errori nella scheda THE DANISH GIRL
Se hai trovato uno o più errori nella scheda del film THE DANISH GIRL segnalacelo usando questo modulo; aiuterai così Filmscoop.it a essere sempre aggiornato ;-)
I trailer vengono visualizzati tramite Adobe Flash. Prima di segnalare il malfunzionamento di un trailer assicurati di avere installato l'ultima versione di Adobe Flash Player. Puoi scaricarla dal sito Adobe.
Non utilizzare questo servizio per segnalare voti scorretti, per quello esiste già un'apposita discussione nel forum
Tutti i campi sono obbligatori.
I dati che vengono inseriti in automatico sono gli stessi utilizzati nella registrazione al forum.
Li puoi vedere nel tuo profilo del forum