Seleziona un'opzione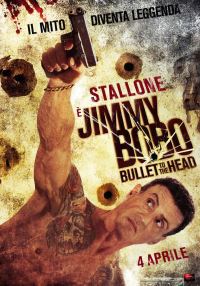 Titolo Originale: BULLET TO THE HEAD
Durata
: h 1.37
Nazionalità
:
USA
2012
Genere
:
azione
Al cinema nell'Aprile
2013
•
Altri film di Walter Hill
Trama del film Jimmy bobo - bullet to the head
Jimmy Bobo Ŕ un sicario alla vecchia maniera che non conosce le buone maniere. Dopo aver ucciso su commissione un poliziotto corrotto, Jimmy e collega bevono bourbon e aspettano la diaria. Ma le aspettative concordate vengono disattese da Keegan, un mercenario senza scrupoli che prova a suo modo a 'liquidarli'. Sopravvissuto al coltello letale del nemico e alla morte dell'amico, Jimmy si ritira nella sua casa a New Orleans a meditare vendetta. Lo aiuterÓ Taylor Kwon, un detective di Washington D.C. col vizio del BlackBerry e della navigazione virtuale, a cui salva la vita. Taylor, indefesso uomo di legge, accetta di affiancarlo, risalendo con lui la catena dei mandanti e promettendo di arrestarlo una volta conclusa l'indagine. Diversamente bisbetici e competenti, Jimmy e Taylor metteranno le mani su documenti scottanti e su un politico corrotto, che vorrebbe cambiare faccia alla cittÓ e poi lucrare sull'edilizia. Per farlo Ŕ disposto a tutto, persino a sequestrare la figlia di Jimmy, che adesso Ŕ davvero arrabbiato.

Sei un blogger? Copia la scheda del film