the departed - il bene e il male regia di Martin Scorsese USA 2006


NEWS
Seleziona un'opzione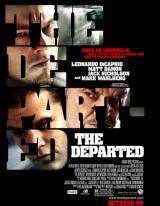 Titolo Originale: THE DEPARTED
Durata
: h 2.29
Nazionalità
:
USA
2006
Genere
:
drammatico
Al cinema nell'Ottobre
2006
•
Altri film di Martin Scorsese
•
Link al sito di THE DEPARTED - IL BENE E IL MALE
Trama del film The departed - il bene e il male
Boston. Un gruppo della malavita organizzata, sceglie uno dei suoi membri per farlo infiltrare nella polizia locale. Allo stesso tempo, il dipartimento di polizia incarica uno dei suoi agenti di operare in incognito all'interno della stessa banda. Ovviamente il compito di entrambi Ú quello di fornire ai propri superiori informazioni importanti e segrete. Inevitabilmente i due vengono a conoscenza della reale identitÓ l'uno dell'altro e cercheranno in tutti i modi di mantenere la propria copertura cercando per˛ di smascherare l'altro...

Sei un blogger? Copia la scheda del film
Voto Visitatori:
8,07 / 10 (588 voti)
Grafico
Voto Recensore:
9,00 / 10




VINCITORE DI 4 PREMI OSCAR:
Miglior film, Miglior regia (Martin Scorsese), Miglior sceneggiatura non originale (William Monahan), Miglior montaggio (Thelma Schoonmaker)


Voti e commenti su The departed - il bene e il male, 588 opinioni inserite

---



Commenti:
Tutti
|


|
Con risposte
|
Con nuove risposte dall'ultima visita
|
Con risposte di oggi
---
---