Seleziona un'opzione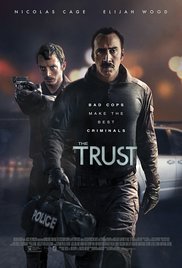 Titolo Originale: THE TRUST
Durata
: h 1.32
Nazionalità
:
Gran Bretagna
2016
Genere
:
thriller
Al cinema nel Maggio
2016
•
Altri film di Alex Brewer
•
Altri film di Benjamin Brewer
Trama del film The trust
Waters e Stone sono due agenti di polizia che lavorano nella stanza delle prove del dipartimento di polizia di Las Vegas. Quando Stone scopre unĺinsolita ricevuta di rilascio su cauzione in relazione a un arresto per droga, i due amici mettono in moto un piano per capire da dove provenga il denaro.

Sei un blogger? Copia la scheda del film
| | | | |
| --- | --- | --- | --- |
| Voto Visitatori: | 5,50 / 10 (7 voti) | | Grafico |
Segnalazione Errori nella scheda THE TRUST
Se hai trovato uno o più errori nella scheda del film THE TRUST segnalacelo usando questo modulo; aiuterai così Filmscoop.it a essere sempre aggiornato ;-)
I trailer vengono visualizzati tramite Adobe Flash. Prima di segnalare il malfunzionamento di un trailer assicurati di avere installato l'ultima versione di Adobe Flash Player. Puoi scaricarla dal sito Adobe.
Non utilizzare questo servizio per segnalare voti scorretti, per quello esiste già un'apposita discussione nel forum
Tutti i campi sono obbligatori.
I dati che vengono inseriti in automatico sono gli stessi utilizzati nella registrazione al forum.
Li puoi vedere nel tuo profilo del forum