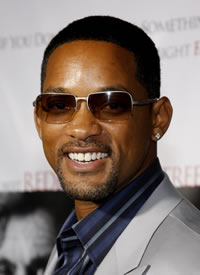 Vero Nome: Willard Christopher Smith Jr.
Data di nascita: 25/09/1968
Luogo di nascita: Philadelphia ľ Pennsylvania ľ U.S.A.
Vincitore dell'MTV Movie Awards 2008 ed eletto dalla rivista americana Newsweek uno degli attori pi¨ potenti al mondo, Will Smith nasce a Philadelphia il 25 Settembre 1968.
Figlio di una dipendente di un convitto e del proprietario di un'impresa d'impianti d'aria condizionata, Will cresce nel West Philadelphia dove Ŕ conosciuto con il soprannome di Fresh Prince. Ama la musica rap fin da piccolo e quando conosce nel 1980 Jeff Townes fra i due inizia una collaborazione artistica che porterÓ alla pubblicazione di ben 5 album. Il duo prende il nome di Dj Jazzy Jeff and The Fresh Prince e si scioglie dopo l'ultimo album pubblicato nel 1993. Will Smith pubblicherÓ altri 5 album da solista in futuro.
La svolta per la carriera arriva nel 1989, quando Will incontra Benny Medina che ha in mente una sit-com basata sulla vita di Smith a Beverly Hills. La serie chiamata "The Fresh Prince of Bel Air" (Will il principe di Bel Air) ha grande successo e spalanca letteralmente le porte di Hollywood a Will Smith.
Nel 1992 ottiene una piccola parte nel film "I DANNATI DI HOLLYWOOD". Sempre nello stesso anno sposa Sheree Zampino dalla quale ha un figlio. I due divorziarono tre anni dopo.
Nel 1993 ottiene un ruolo in due diversi film. Il primo Ŕ "MADE IN AMERICA" dove Fresh Prince recita una piccola parte. Il secondo film Ŕ "SEI GRADI DI SEPARAZIONE", pellicola in cui Will recita la parte di Paul. Il film vede la presenza di un attore come Donald Sutherland.
Il primo vero ruolo cinematograficamente importante lo ottiene nel 1995 quando insieme a Martin Lawrence Ŕ protagonista dell'action-movie "BAD BOYS", film diretto da Michael Bay. La pellicola ottiene ottimi risultati anche grazie alla prova del duo Lawrence - Smith e Will, in virt¨ di questo successo, si guadagna il ruolo del capitano Steven Hiller.
E' il 1996 quando nelle sale cinematografiche esce "INDEPENDENCE DAY". Il film riscuote un enorme successo in tutto il mondo e da quel momento la carriera di Will Smith Ŕ un susseguirsi di trionfi.
Nel 1997 esce "MEN IN BLACK", film che presenta un cast stellare. Oltre a Smith, troviamo Tommy Lee Jones e Vincent D'Onofrio.
Nello stesso anno Smith si sposa per la seconda volta. La fortunata Ŕ l'attrice Jada Pinkett da cui ha due figli, Jaden Christopher Syre e Willow Camille Reign.
Nel 1998 vede la luce "NEMICO PUBBLICO" di Tony Scott dove Fresh Prince Ŕ Robert Clayton, un avvocato di Washington DC che si ritrova a sua insaputa coinvolto in una operazione di controspionaggio.
L'anno dopo rifiuta il ruolo di Neo in Matrix per girare "WILD WILD WEST". Pessima scelta visto che Matrix ottiene un successo mondiale mentre WILD WILD WEST diventa il pi¨ grande flop di Will.
Nel 2000 accetta il ruolo di protagonista nel film "LA LEGGENDA DI BAGGER VANCE", dove Ŕ affiancato da MATT DAMON e CHARLIZE THERON. Quello di Bagger Vance Ŕ il primo ruolo drammatico interpretato da Will Smith.
Si ripete un anno dopo quando nel 2001 esce "ALI'", film che racconta la storia del grande pugile Cassius Clay. Will, che grazie a questa prova, ottiene la prima candidatura all'oscar della sua carriera come miglior attore protagonista.
Il 2002 e il 2003 sono gli anni dei sequel. Vengono realizzati infatti "MEN IN BLACK II" e "BAD BOYS II".
Ormai Smith Ŕ un attore affermatissimo e amatissimo e non sbaglia un colpo al botteghino. Lo dimostra anche il successo di "IO, ROBOT" nel 2004. Sempre nello stesso anno Will dona la sua voce al personaggio principale del film d'animazione "SHARK TALE" prodotto dalla Dreamworks Animation. L'anno dopo riprende le vesti di attore nel film commedia " HITCH - LUI SI CHE CAPISCE LE DONNE" dove interpreta il "Dottor rimorchio" e aiuta un ragazzo "sfigato" e un po' bruttino (Kevin James) a conquistare la celebre Allegra Cole (Amber Valletta) mentre lui stesso cerca di conquistare il cuore di Sara Melas (Eva Mendes).
Nel 2006 ritorna con un ruolo drammatico nel film di Gabriele Muccino "LA RICERCA DELLA FELICITA'" in cui recita per la prima volta anche il figlio Jaden Crystopher Syre. Il film ottiene un grande successo e grazie alla grande performance Smith ottiene la seconda candidatura all'oscar come miglior attore protagonista.
Nel 2007 ritorna con "IO SONO LEGGENDA", film tratto dal romanzo di Richard Matheson, dove Will interpreta Robert Neville, l'ultimo uomo rimasto vivo sulla terra. Un altro grande successo seguito l'anno dopo da "HANCOCK", un supereroe ubriaco che cerca di far del bene e aiutare la gente ma combina solo guai.
Nel 2008 ritorna a lavorare con Gabriele Muccino nel film "SETTE ANIME".
╔ il fondatore della casa cinematografica Overbrook Entertainment. Con la stessa casa cinematografica sono stati prodotti i film: "ALI'", "IO, ROBOT", "HITCH - LUI SI CHE CAPISCE LE DONNE", "LA RICERCA DELLA FELICITA'", "IO SONO LEGGENDA", "HANCOCK" e "SETTE ANIME". In questi film Will Smith Ŕ anche attore.
Ama i video-game, gli scacchi e il bingo. E' cintura nera di taekwondo.
Attualmente Ŕ l'attore pi¨ pagato di Hollywood.
FILMOGRAFIA
1990 -
WILLY, IL PRINCIPE DI BEL AIR - STAGIONE 1
regia di Debbie Allen, Rita Rogers, Jeff Melman, Rae Kraus
1991 -
WILLY, IL PRINCIPE DI BEL AIR - STAGIONE 2
regia di Ellen Falcon, Shelley Jensen, Rita Rogers, Malcolm-Jamal Warner, Rae Kraus
1992 -
I DANNATI DI HOLLYWOOD
regia di Marc Rocco
1992 -
WILLY, IL PRINCIPE DI BEL AIR - STAGIONE 3
regia di Shelley Jensen, Chuck Vinson, Michael Peters, Werner Walian, Maynard Virgil I
1993 -
MADE IN AMERICA
regia di Richard Benjamin
1993 -
WILLY, IL PRINCIPE DI BEL AIR - STAGIONE 4
regia di Shelley Jensen, Chuck Vinson, Maynard Virgil I, Madeline Cripe
1993 -
SEI GRADI DI SEPARAZIONE
regia di Fred Schepisi
1994 -
WILLY, IL PRINCIPE DI BEL AIR - STAGIONE 5
regia di Shelley Jensen, Chuck Vinson, Maynard Virgil I
1995 -
BAD BOYS
regia di Michael Bay
1995 -
WILLY, IL PRINCIPE DI BEL AIR - STAGIONE 6
regia di Shelley Jensen, Madeline Cripe, Alfonso Ribeiro, Werner Walian
1996 -
INDEPENDENCE DAY
regia di Roland Emmerich
1997 -
MEN IN BLACK
regia di Barry Sonnenfeld
1998 -
NEMICO PUBBLICO (1998)
regia di Tony Scott
1999 -
WILD WILD WEST
regia di Barry Sonnenfeld
2000 -
LA LEGGENDA DI BAGGER VANCE
regia di Robert Redford
2001 -
ALI'
regia di Michael Mann
2002 -
MEN IN BLACK II
regia di Barry Sonnenfeld
2003 -
BAD BOYS II
regia di Michael Bay
2004 -
IO, ROBOT
regia di Alex Proyas
2004 -
SHARK TALE
regia di Bibo Bergeron, Vicky Jenson
2005 -
HITCH - LUI SI CHE CAPISCE LE DONNE
regia di Andy Tennant
2006 -
LA RICERCA DELLA FELICITA'
regia di Gabriele Muccino
2007 -
IO SONO LEGGENDA
regia di Francis Lawrence
2008 -
HANCOCK
regia di Peter Berg
2008 -
SETTE ANIME
regia di Gabriele Muccino
2012 -
MEN IN BLACK 3
regia di Barry Sonnenfeld
2013 -
AFTER EARTH - DOPO LA FINE DEL MONDO
regia di M. Night Shyamalan
2014 -
STORIA D'INVERNO
regia di Akiva Goldsman
2015 -
FOCUS - NIENTE E' COME SEMBRA
regia di Glenn Ficarra, John Requa
2015 -
ZONA D'OMBRA - UNA SCOMODA VERITA'
regia di Peter Landesman
2016 -
SUICIDE SQUAD
regia di David Ayer
2016 -
COLLATERAL BEAUTY
regia di David Frankel
2017 -
BRIGHT
regia di David Ayer
2019 -
ALADDIN (2019)
regia di Guy Ritchie
2019 -
GEMINI MAN
regia di Ang Lee
Clicca il nome del film per visualizzarne la scheda
Galleria Fotografica

Biografia a cura di Hitchens - ultimo aggiornamento 17/02/2009