gauguin a tahiti. il paradiso perduto regia di Claudio Poli Italia 2019


NEWS
Seleziona un'opzione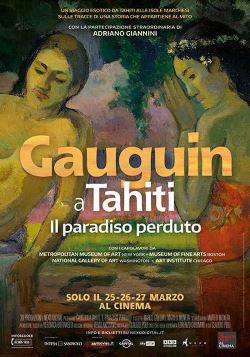 Titolo Originale: GAUGUIN A TAHITI. IL PARADISO PERDUTO
Durata
: h 1.30
Nazionalità
:
Italia
2019
Genere
:
documentario
Al cinema nel Marzo
2019
•
Altri film di Claudio Poli
Trama del film Gauguin a tahiti. il paradiso perduto
Gauguin a Tahiti. Il Paradiso Perduto Ŕ un docu-film che ripercorre parti della biografia del pittore francese tra mito e pittura raffinatamente primordiale. Un viaggio tra i luoghi che Gauguin ha scelto come patria d'elezione, ma anche un itinerario tra le sue opere, custodite in buona parte nei musei americani: il Metropolitan Museum, il Chicago Art Institute, la National Gallery of Art e il Museum of Fine Arts.

Sei un blogger? Copia la scheda del film
Nessuno ha ancora votato e commentato
GAUGUIN A TAHITI. IL PARADISO PERDUTO
---
Commenti:
Tutti
|


|
Con risposte
|
Con nuove risposte dall'ultima visita
|
Con risposte di oggi
---