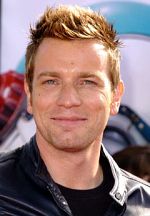 Vero Nome: EWAN GORDON MCGREGOR
Data di nascita: 31/03/1971
Luogo di nascita: Crieff - Scozia
Ewan Gordon McGregor Ŕ nato in Scozia, a Crieff, il 31 marzo del 1971. Oltre ad essere attore si cimenta anche nella regia e nella produzione.
A soli 16 anni decide di abbandonare il Liceo e da bravo furbetto convince anche i suoi genitori che la scelta migliore per lui Ŕ raggiungere Perth Repertory Theatre ed imparare a recitare. Dopo poco si trasferisce a Londra ed inizia a frequentare un corso di tre anni nella prestigiosa scuola di London's Guildhall School of Music and Drama. Non riesce a terminare il corso e senza aver conseguito il diploma viene ingaggiato da Dennis Potter per la serie televisiva Scarlett & Black nel 1993. Dalla serie Tv al grande schermo. Dal 1993 in poi la carriera di Ewan prende una via a senso unico: la via dell'ascesa. Inizialmente recita in film tv come Lipstick on your collar, Family style fino ad ottenere il suo primo importante ruolo nel film "Le cinque vite di Hector". Nel 1994 viene notato da Boyle che lo ingaggia per "PICCOLI OMICIDI TRA AMICI" e "Trainspoitting" girato nel 1996. Tra una produzione e l'altra con il regista Boyle, Ewan si sposa con la scenografa francese Eve Mavrakis di 5 anni pi¨ grande di lui e dal quale ha ben due figli.
Boyle lo recluta anche per il film "UNA VITA ESAGERATA" al fianco di CAMERON DIAZ.
Nel 1997 decide che Ŕ ora di cambiare aria e soprattutto regista infatti scarta il ruolo, ottenuto poi da Di Caprio, in "The Beach" e, allo stesso tempo, viene rifiutato per interpretare Mercuzio in "Romeo + Giulietta" di Luhrmann che lo sceglierÓ in seguito per "MOULIN ROUGE".
Nel frattempo recita nei film "Grazie signora Thatcher" di Mark Herman, "I RACCONTI DEL CUSCINO" di Peter Greenaway, "IL BACIO DEL SERPENTE" di Philippe Rousselot. Mentre il 1998 Ŕ caratterizzato dai film "Nightwatch", "Little voice", e dal musical VELVET GOLDMINE.
Il 1999 Ŕ l'anno della grande svolta. Viene notato da George Lucas e, considerandolo un attore dalle grandi potenzialitÓ, gli affida l'importante ruolo del maestro Oby Wan Kenoby nella serie prequel di Guerre Stellari. Il primo film della trilogia si intitola "Guerre stellari: Episodio I la minaccia fantasma", il secondo della serie esce nel 2002 "L'attacco dei cloni", il terzo nel 2005 con "La vendetta dei Sith", quest'ultimo in soli 4 giorni ha incassato ben 158milioni di dollari nella sola America. In questi cinque anni Ewan McGregor Ŕ stato scritturato in altri importanti film come il violento "BLACK HAWK DOWN" di Ridley Scott, il musical "MOULIN ROUGE" accanto alla bella NICOLE KIDMAN, "Big Fish" nel 2003 di Tim Burton, "YOUNG ADAM" nel 2003 diretto da David Mackenzie. Sempre nel 2005, dopo "la vendetta dei Sith", Ewan riappare sul grande schermo nelle vesti di un clone nel film di Michael Bay "THE ISLAND".
Due anni fa il maestro McGregor ha accettato di recitare nel film "Flor Plum" di JODIE FOSTER, il terzo film in cui l'attrice si cimenta nella regia. Le riprese non sono mai iniziate perchÚ dopo il rifiuto di Russel Crowe, giÓ nell'anno 2000, anche Ewan ha deciso di scartare l'idea di recitare in quel film.
Nell'Aprile del 2004 Ewan McGregor ha compiuto un viaggio in moto dalla durata di tre mesi, insieme all'amico e attore Charley Boorman. Circa 30 mila km partendo da Londra per attraversare l'Europa orientale, Siberia, Alaska fino ad arrivare in America: tappa finale New York. Il viaggio Ŕ stato ripreso dal regista russo Stanislav Komarov che ne farÓ una serie di 10 puntate da trasmettere in televisione dal titolo "la lunga strada". Durante il viaggio l'attore Ŕ stato punto alla testa da un insetto che gli ha causato un doloroso gonfiore, da quel giorno si Ŕ ripromesso di dormire in albergo anzichÚ in tenda. Il pericolo non molla e questa volta torna minaccioso. Ewan e Boorman vengono sequestrati da un gruppo di miliziani in Ucraina, fortunatamente l'attore viene riconosciuto e liberato. Poche ore dopo dalla liberazione il regista Kamarov li ha raggiunti al confine con l'Ucraina e i due attori si trovano sani e salvi nell'abitazione del loro salvatore, un imprenditore locale. Per sciogliere la tensione Ewan strimpella la chitarra canticchiando.
Si vocifera che il prossimo film che vedrÓ come protagonista Ewan sia "Scenes of a Sexual Nature" affianco di Sophie Okonedo e diretto da Edward Blum.
Recentemente Ewan ha fondato una casa di produzione la NATURAL NYLON insieme a Jude Low, Sadie Frost e Johnny Lee Miller con cui intendono valorizzare il genere film vecchia maniera. La carriera di Ewan Ŕ caratterizzata da capriole tra film d'autore e commerciali, cosi l'attore afferma che la cosa pi¨ importante per lui Ŕ variare, seguire il suo istinto. Non Ŕ il nome del regista che influenza le sue scelte ma il copione e come immagina la storia nella sua mente.
PRODUTTORE
2000 - Nora regia di Pat Murphy
REGIA
1999 - Tube Tales (film tv)
SERIE TV
1993 - Family style
1993 - Lipstick on your collar
1993 - Scarlett & Black
1994 - Doggin' around
1996 - Karaoke
2002 - Solid Geometry
FILMOGRAFIA
1993 - Le cinque vite di Hector regia di Bill Forsyth
1995 - Blue Juice regia di Peter Salmi
1996 - Grazie signora Thatcher regia di Mark Herman
1998 - Little Voice regia di Mark Herman
1998 - Desserts regia di Jeff stark (cortometraggio)
1999 - Rogue Trader regia di James Dearden
2000 - Nora regia di Pat Murphy
2005 - Sunset Boulevard regia di Andrew Lloyd Webber
1994 -
LE CINQUE VITE DI HECTOR
regia di Bill Forsyth
1994 -
PICCOLI OMICIDI TRA AMICI
regia di Danny Boyle
1996 -
GRAZIE, SIGNORA THATCHER
regia di Mark Herman
1996 -
I RACCONTI DEL CUSCINO
regia di Peter Greenaway
1996 -
I RACCONTI DELLA CRIPTA - STAGIONE 7
regia di Russell Mulcahy, Peter Hewitt, William Malone, Bill Kopp, Christopher Hart e altri
1996 -
EMMA
regia di Douglas McGrath
1996 -
TRAINSPOTTING
regia di Danny Boyle
1997 -
UNA VITA ESAGERATA
regia di Danny Boyle
1997 -
IL BACIO DEL SERPENTE
regia di Philippe Rousselot
1997 -
NIGHTWATCH (1997)
regia di Ole Bornedal
1998 -
VELVET GOLDMINE
regia di Todd Haynes
1999 -
THE EYE - LO SGUARDO
regia di Stephan Elliott
1998 -
STAR WARS EPISODIO I - LA MINACCIA FANTASMA
regia di George Lucas
2000 -
NORA
regia di Pat Murphy
1998 -
LITTLE VOICE - E' NATA UNA STELLA
regia di Mark Herman
2001 -
MOULIN ROUGE
regia di Baz Luhrmann
2001 -
BLACK HAWK DOWN
regia di Ridley Scott
2002 -
STAR WARS EPISODIO II L'ATTACCO DEI CLONI
regia di George Lucas
2003 -
YOUNG ADAM
regia di David Mackenzie
2003 -
ABBASSO L'AMORE
regia di Peyton Reed
2003 -
BIG FISH - LE STORIE DI UNA VITA INCREDIBILE
regia di Tim Burton
2005 -
STAR WARS: EPISODIO III - LA VENDETTA DEI SITH
regia di George Lucas
2005 -
THE ISLAND
regia di Michael Bay
2005 -
STAY - NEL LABIRINTO DELLA MENTE
regia di Marc Forster
2006 -
STORMBREAKER
regia di Geoffrey Sax
2006 -
MISS POTTER
regia di Chris Noonan
2007 -
SOGNI E DELITTI
regia di Woody Allen
2008 -
SEX LIST - OMICIDIO A TRE
regia di Marcel Langenegger
2008 -
ANGELI E DEMONI
regia di Ron Howard
2009 -
L'UOMO CHE FISSA LE CAPRE
regia di Grant Heslov
2009 -
AMELIA
regia di Mira Nair
2008 -
SENZA APPARENTE MOTIVO
regia di Sharon Maguire
2009 -
COLPO DI FULMINE - IL MAGO DELLA TRUFFA
regia di Glenn Ficarra, John Requa
2009 -
L'UOMO NELL'OMBRA
regia di Roman Polanski
2011 -
PERFECT SENSE
regia di David Mackenzie
2010 -
BEGINNERS
regia di Mike Mills
2012 -
KNOCKOUT - RESA DEI CONTI
regia di Steven Soderbergh
2011 -
IL PESCATORE DI SOGNI
regia di Lasse Hallstr÷m
2012 -
THE IMPOSSIBLE
regia di Juan Antonio Bayona
2013 -
IL CACCIATORE DI GIGANTI
regia di Bryan Singer
2013 -
I SEGRETI DI OSAGE COUNTY
regia di John Wells
2014 -
SON OF A GUN
regia di Julius Avery
2015 -
MORTDECAI
regia di David Koepp
2016 -
JANE GOT A GUN
regia di Gavin O'Connor
2015 -
MILES AHEAD
regia di Don Cheadle
2015 -
LAST DAYS IN THE DESERT
regia di Rodrigo Garcia
2016 -
IL TRADITORE TIPO
regia di Susanna White
2016 -
AMERICAN PASTORAL
regia di Ewan McGregor
2017 -
TRAINSPOTTING 2
regia di Danny Boyle
2017 -
LA BELLA E LA BESTIA (2017)
regia di Bill Condon
2017 -
FARGO - STAGIONE 3
regia di Noah Hawley, Keith Gordon, Mike Barker, Dearbhla Walsh, Michael Uppendahl, John Cameron
2018 -
RITORNO AL BOSCO DEI 100 ACRI
regia di Marc Forster
2019 -
DOCTOR SLEEP
regia di Mike Flanagan
Clicca il nome del film per visualizzarne la scheda
Galleria Fotografica

Biografia a cura di elfavy - ultimo aggiornamento 15/09/2005